This post may contain affiliate links which give me a small commission at no extra charge to you.
If you have a fear of childbirth, you are not alone!
Fears and anxieties surrounding pregnancy and childbirth are very common among pregnant women.
In fact, it's totally normal to have at least some fears or anxieties regarding your pregnancy or childbirth.
But… how do you cope with these common anxieties?
Where can you find help if your fear is more overwhelming?
Are there any tips for overcoming your fear of childbirth?
What can you do before labor starts to deal with these common fears?
In this post, I am going to highlight 5 really great resources for facing your fear of childbirth.
Let's get started!
1. How to Overcome Labor Anxiety
In this video resource, Monica from PregnancyChat shares 10 awesome ideas for overcoming labor anxiety.
I love her gentle, non-judgmental, and encouraging way that she takes you through these easy and practical steps!
Grab a pen and take notes…
2. Fear of Childbirth – 5 Things You Can Do!
In this next video, Sarah Prince of My Natural Baby Birth shares her practical, common-sense tips for overcoming fear of childbirth.
Sarah has a terrific website with lots of great tips for preparing for a natural birth.
In addition, you can read her related blog post called 5 Things to Do To Overcome Your Birth Fears.
3. Smart Ways to Overcome Fear of Giving Birth
Ros Emily, the mom behind the blog, Stress-Free Mommies shares her 10 powerful tips in this post.
I love her tips!
She has included some new and different ideas for you, so it's definitely worth checking out her suggestions as well.
Related: Increase Your Chances of a Natural Birth with These 30 Easy Tips!
Related: Pregnancy 101: Planning for New Baby! – FREE Printables for Getting Organized!
Related: FREE Planning for Postpartum 5-Day Mini Email Course!
4. My Favorite Childbirth Class!
Knowledge is power… especially in the case of pregnancy and birth!
The more you know and understand the birthing process, the more prepared, in control and confident you become!
Overcome your fear of childbirth and labor by signing up for a great childbirth class.
This is my favorite online childbirth class.
Co-taught by a certified nurse midwife and experienced natural birthing mom and blogger, this class will most certainly help you face your fears of natural childbirth.
These ladies are so amazing and their teaching approach is very empowering! They really help you believe in yourself and gain the confidence you need to birth without fear.
When your baby's birthday arrives, you will be excited and ready!
If, however, natural childbirth is not your gig, find out how to choose the childbirth class that's right for you!
Click Here to learn more about The Mama Natural Childbirth Course!
5. Face Your Fear of Childbirth with a Week-by-Week Pregnancy Guide
There are lots of "week-by-week pregnancy guides" out there. I love week-by-week guides because they are not overwhelming.
You get the pregnancy and childbirth education you need, but the information is dished out at a nice, digestible pace!
But… choosing one can be confusing.
So… here are my top picks for the best pregnancy guides for your "week-by-week" learning.
The Mama Natural Week-to-Week Guide to Pregnancy and Childbirth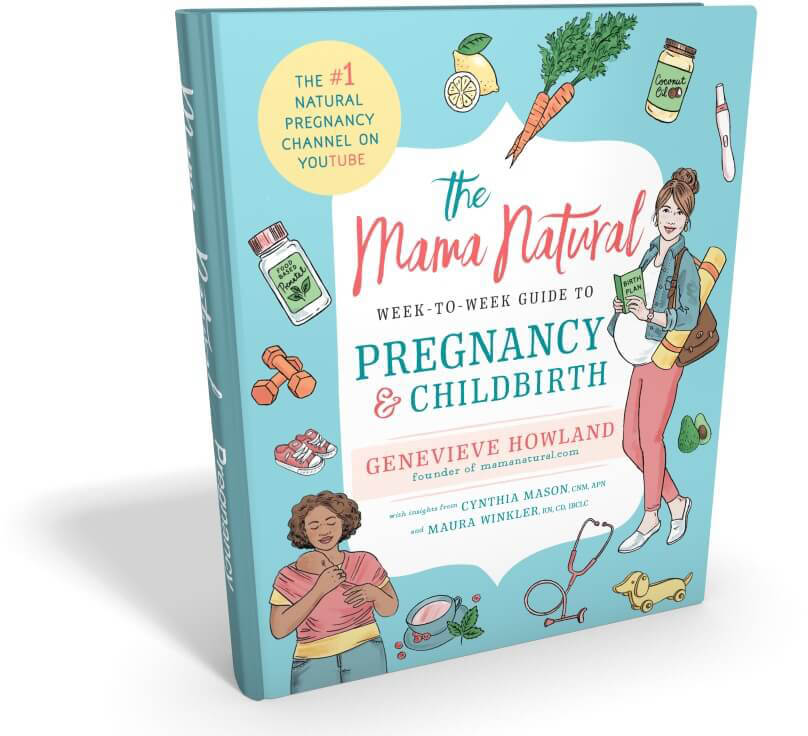 If you are interested in at least trying to have a natural birth, then this week-by-week guide is for you!
Even if you are not sure about your thoughts on a drug-free birth, I'd still recommend getting this book!
Not only does the author walk you through each week of pregnancy, but she provides you with a comprehensive resource for nutrition, exercise, childbirth, newborn care, postpartum care and breastfeeding as well.
This guide will set you up for your best chance at a healthy pregnancy, baby and complication-free delivery.
If the thought of attempting a natural birth is outside your comfort level, then check out this great book instead. It also covers everything you need to know about pregnancy, childbirth and newborn care but from a more "medical" perspective!
… And yes, this book also provides an easy week-by-week approach to your pregnancy and learning adventure!
What About You?
How have you faced your fear of childbirth in the past?
What are you doing now that is helping?
Please share your ideas with new mamas!