This post may contain affiliate links which give me a small commission at no extra charge to you.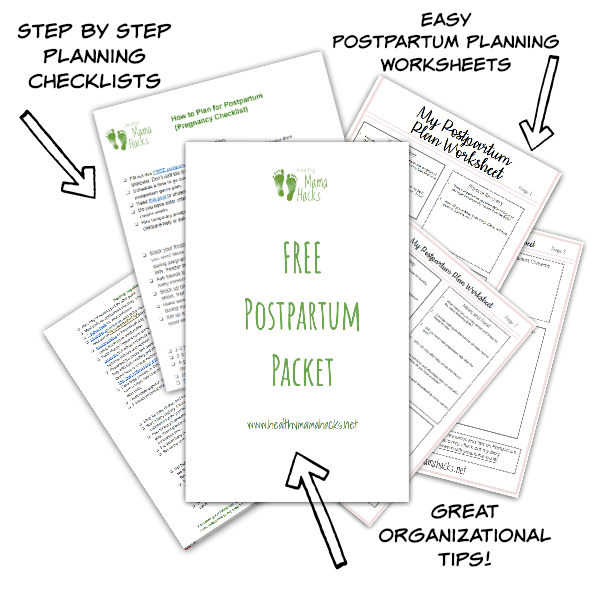 Have you ever heard of the benefits of drinking raspberry leaf tea during pregnancy?
Rumor has it, that drinking this tea tones and supports the uterus, which leads to a shorter, easier labor!
Sign me up, right?!
In this post, I'm going to introduce you to this wonderful herbal tea and share some pretty amazing ways that it could help you during your upcoming labor, delivery and postpartum recovery!
If you'd like to learn more about the many raspberry leaf tea benefits… keep reading!
Known as "the women's herb," red raspberry leaf tea has been used for centuries to treat women's issues.
It has a particularly long history of use in pregnancy and labor.
Raspberry leaf contains the alkaloid, fragrine, which is known to strengthen the uterus as well as the pelvic area.
Midwives use the tea, capsules or tincture to strengthen and tone the uterus, ripen the cervix, support contractions and prevent postpartum hemorrhage.
It has many other known health benefits for pregnancy, childbirth and postpartum recovery as well.
What is Red Raspberry Leaf Tea?
As you may have guessed, raspberry leaf tea comes from the leaves of the red raspberry leaf plant. (Rubus idaeus.)
The leaves are naturally high in vitamins and minerals needed for a healthy pregnancy. Among them are magnesium, potassium, iron, calcium, and vitamins B, A, C, and E.
The high levels of B vitamins help alleviate nausea, leg cramps, and improve sleep in pregnancy.
The other nutrients support and nurture your pregnancy.
Generally known for its health benefits in pregnancy, raspberry leaf tea is also an excellent choice for all women because it's nutrient profile helps support all-around female health.
Raspberry Leaf Tea Benefits
In addition to the nutritional benefits to both mom and baby, raspberry leaf tea is also known to shorten and ease the pain of labor.
It is believed that the alkaloid fragrine, which is found in red raspberry leaf tea, tones and strengthens the uterus.
This helps the uterus to contract more effectively with less pain. Because of this, red raspberry leaf tea not only eases labor pains, but helps with menstrual cramping as well!
In addition, it is also known to balance hormones, increase fertility and may even prevent miscarriages by strengthening and toning the uterine wall!
Is There any Proven Science?
Because I like to distinguish between evidence-based solutions and those that are anecdotal, I did a bit of digging in this department.
In spite of the fact that there's TONS of anecdotal evidence and centuries of positive outcomes reported with the use of raspberry leaf tea during pregnancy, there is actually very little research on human consumption of raspberry leaf.
The few human studies that have been conducted seemed inconclusive, but could be interpreted as positive. Here is one such study.
Animal studies that were conducted on rats, were also inconclusive.
While there are no scientific studies to actually prove its effectiveness, there are also no studies that prove adverse outcomes either.
Nevertheless, raspberry leaf tea continues to be a popular pregnancy tonic and many women whole-heartily testify to its effectiveness!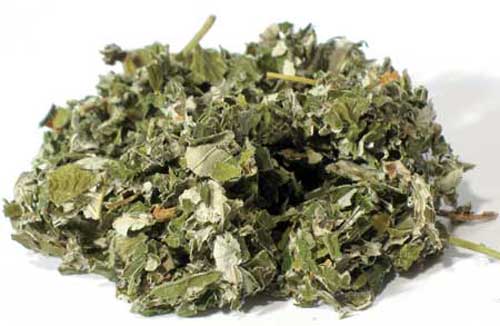 Raspberry Leaf Tea Benefits and My Personal Story
As you may have guessed, I drank raspberry leaf tea during my pregnancies and I believe that it was very helpful in shortening and easing my labors!
While the labors were certainly not pain-free, the contractions were very manageable and I was able to labor without any pain medications.
Of course, there are always variables in real life and it's hard to really know for sure what my labors would have been like without the tea, but I like to think that it made a difference!
I started making and drinking the tea during my second trimesters.
It tastes very much like regular black tea, but without the caffeine. I drank my tea cold or iced, simply because I prefer cold tea.
I was the most faithful to the tea protocol during my first pregnancy and interestingly enough, that was my easiest labor of all!
After 10 hours of what I thought was early labor, we decided to go to the hospital to get checked. My cervix was fully dilated and I was told that I was ready to push!
Wow! That's pretty incredible for a first baby!!
Centuries of Stories about the Benefits of Raspberry Leaf Tea!
Although I prefer to see strong evidence-based studies to support my recommendations, I also believe that you can't ignore all the positive stories and thousands of years of tradition surrounding the use of red raspberry leaf tea.
Midwives, doulas, nurses and even doctors sing its praises!
Go ahead and do a search yourself and you will find TONS of anecdotal evidence and many many positive reviews!
Since there is no evidence to prove that drinking this tea is dangerous or harmful in pregnancy, many women choose to do so!
*Disclaimer – The information in the post is for educational purposes only. It is not intended to be medical advice. Please make sure you talk with your doctor or midwife before using raspberry leaf tea during your pregnancy.
How to Brew the Tea
The best method of making the tea is called an infusion.
An infusion is a method of brewing that provides maximum benefit from the herb.
Here are 7 easy steps to brewing your tea using the infusion method:
Step 1 -Buy your tea
It's important to buy organic, loose tea for your infusion. I recommend this brand. You can also pick your own fresh leaves if you are fortunate enough to have red raspberry plants in the garden!
Step 2 – Find a glass jar with a lid
I like to use a quart-size canning jar, but a mayonnaise jar works great too.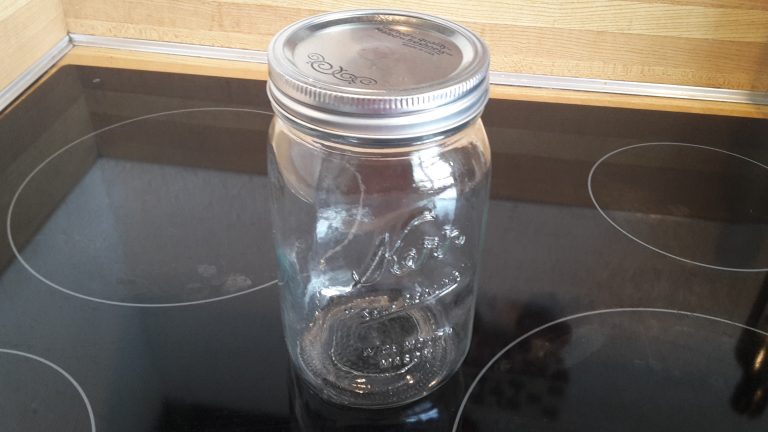 Step 3- Add loose tea to jar
Place a large handful of red raspberry leave bulk tea into the jar. (approx. 1/2 cup)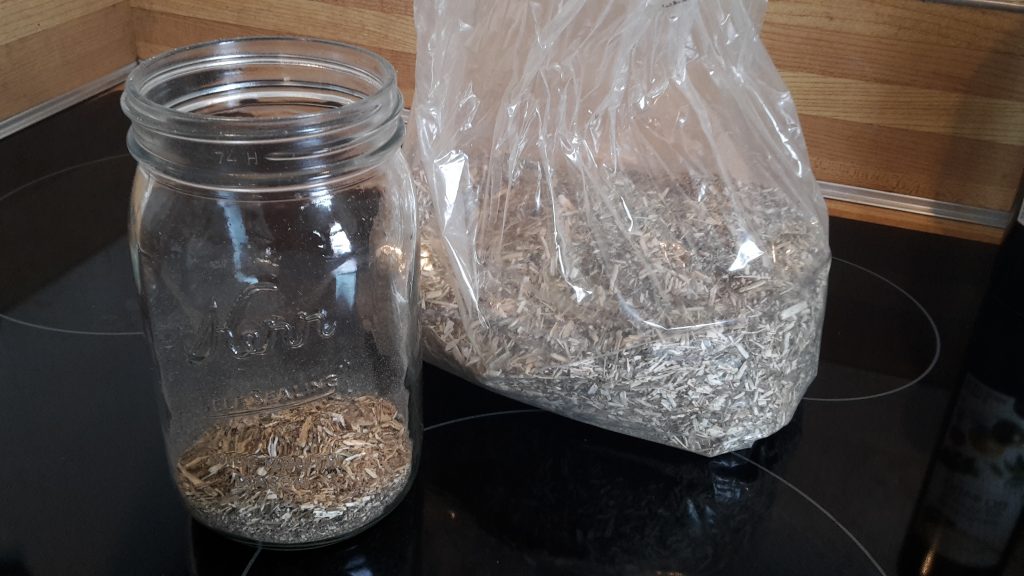 Step 4 – Add water
Pour boiling water (preferably filtered water) over the loose tea.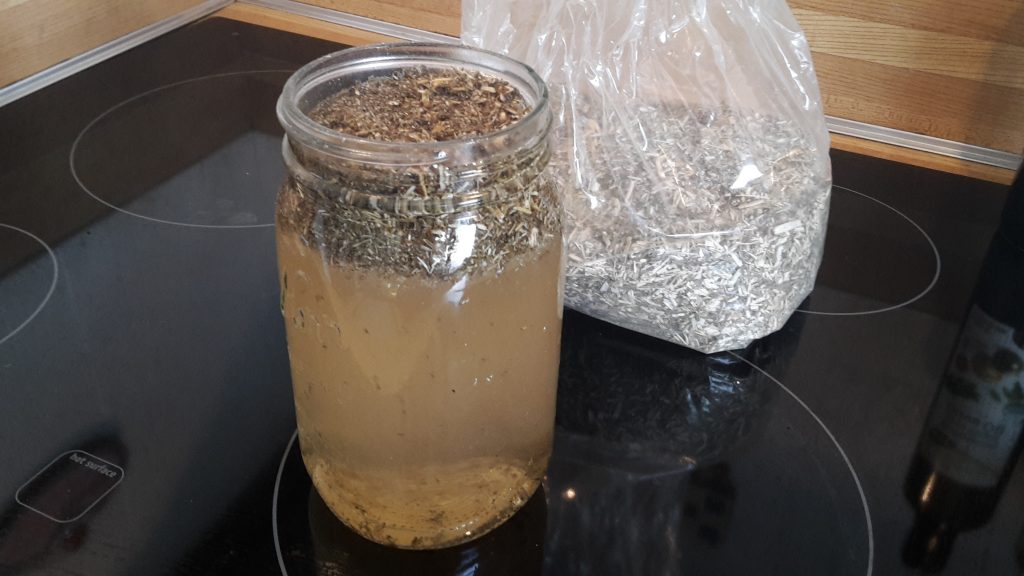 Step 5 – Cover jar
Place the cover on the jar to prevent the steam from escaping. We do not want the essential oils in the tea to escape with the steam.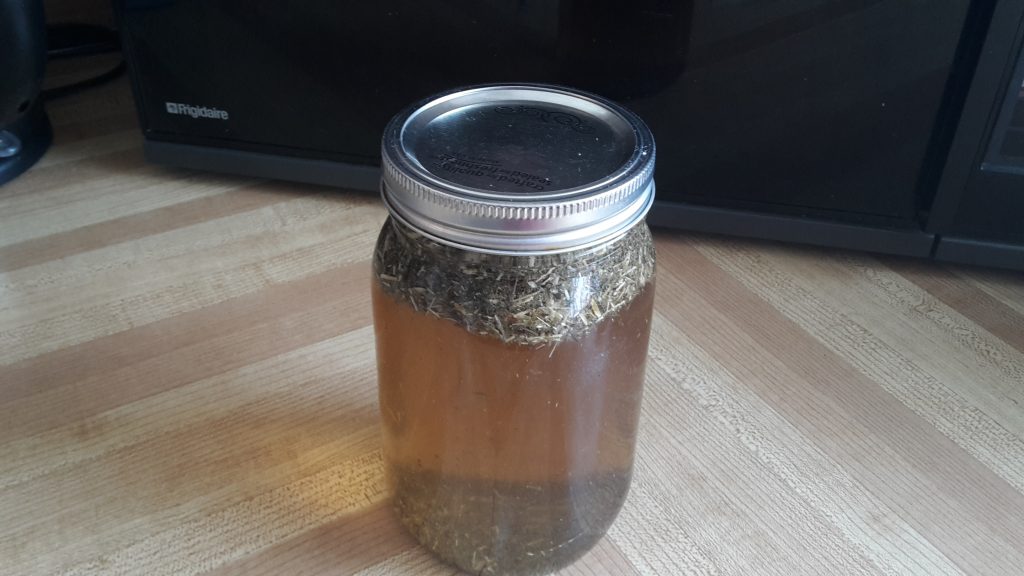 Step 6 – Wait 4-8 hours
Set aside and brew for at least 4-8 hours to extract the maximum potency from the herb.
Step 7 – Strain and drink
Strain and drink hot, cold or iced. If you prefer a sweet tea, mix with your favorite fruit juice or raw honey. The tea can be stored in the refrigerator for a few days, but nutritionally best to drink at its freshest.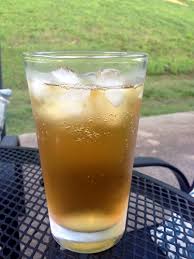 Are you looking for the convenience of a tea bag option?
Here is a great alternative to the loose tea.
It's a more expensive option, but definitely easier and more convenient! (Many of us need convenience in our busy schedules!) I would recommend a longer brew to extract the full goodness of the herb!
Check out this great raspberry leaf tea bag option as well as all the many GREAT Earth Mama products for pregnancy and childbirth.
How Much Do I Drink?
There is no standardized dosage, but generally women will drink 1-2 cups a day beginning in the second trimester.
Is it Safe for Pregnancy?
Again, there is no solid research to suggest that raspberry leaf tea is safe or unsafe, but like anything in pregnancy, it's best to use caution and common sense when beginning anything new.
Some healthcare professionals recommend waiting until the 2nd trimester to begin drinking red raspberry leaf tea because it may increase uterine contractions and potentially threaten an early miscarriage, although there are no studies to corroborate this.
Conversely, many midwives and herbalists recommend beginning red raspberry leaf tea as early as you want because it has been used safely during pregnancy for centuries.
Bottom line, be sure and talk to your doctor or midwife before making a decision or if you have any concerns about drinking raspberry leaf tea.
How to Make "Labor Day Tea"
Many midwives will recommend a stronger brew to be made and used starting a few days before your due date and/or at the onset of labor.
For this infusion, follow the steps above, but increase the bulk tea to 1-1/2 cups. It will taste much stronger.
Sipping this tea throughout labor is thought to encourage effective contractions and promote an easier labor.
Brew some up, store a thermos in the fridge and bring it along as you head to the hospital!
*Disclaimer – The information in the post is for educational purposes only. It is not intended to be medical advice. Please make sure you talk with your doctor or midwife before using raspberry leaf tea during your pregnancy.
Have you experienced the benefits of raspberry leaf tea?
Have you experienced any raspberry leaf tea benefits during pregnancy or childbirth? Please share in the comments!